Dr. Stacy Loeb is a Professor of Urology and Population Health at New York University (NYU) and the Manhattan Veterans Affairs Medical Center, specializing in prostate cancer. Dr. Loeb completed her urology residency training at Johns Hopkins and subsequently completed a Masters of Science in Comparative Effectiveness Research at New York University. She currently has grants from the Prostate Cancer Foundation, Department of Defense and NYU Perlmutter Cancer Center.
Dr. Loeb has published more than 350 peer-reviewed articles and 10 book chapters, primarily on prostate cancer, men's health, and social media. She is on the Editorial Board for the Journal of Clinical Oncology, European Urology, Reviews in Urology, Nature Reviews in Urology and Urology Times. She also authored the chapter on Early Detection, Diagnosis, and Staging of Prostate Cancer for Campbell-Walsh Urology, the primary textbook in the field.
Dr. Loeb received the 2021 Gold Cystoscope Award from the American Urological Association, which is awarded annually to a urologist for outstanding contributions to the field within 10 years of graduating from residency training.
Dr. Loeb hosts the Men's Health Show on Sirius XM 110 US/Canadian satellite radio on Wednesdays from 6-8pm EST. She frequently gives international lectures and courses on prostate cancer, men's health and social media.
Dr. Loeb is an active participant in social media, and has received multiple awards from the BJU International for her contributions to social media in medicine. Dr. Loeb is a member of the American Urological Association Public Media Committee and a consultant to the European Association of Urology Guidelines Office Social Media Committee.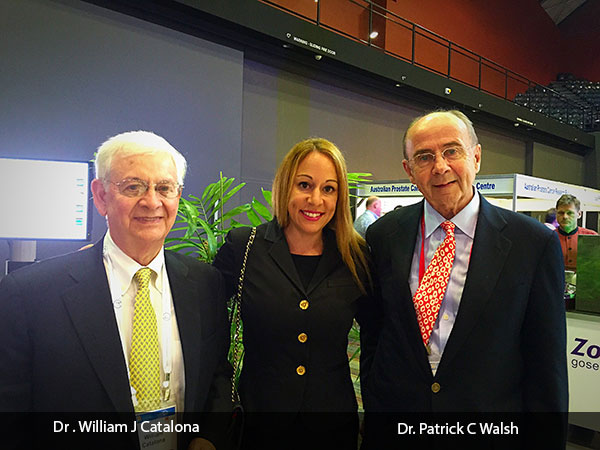 Dr. Loeb with her mentors Dr. William J. Catalona and Dr. Patrick C. Walsh.